At Kerry D Charters you can rest assured that you are going to sea on a vessel that is perfectly fitted for the job at hand. Allowing you a fishing/charter with the peace of mind that can only come from knowing you are well-catered.
Both of our vessels are regularly maintained and inspected to ensure that they are as seaworthy and fit for purpose as possible!
Beachcomber – 30ft (9m);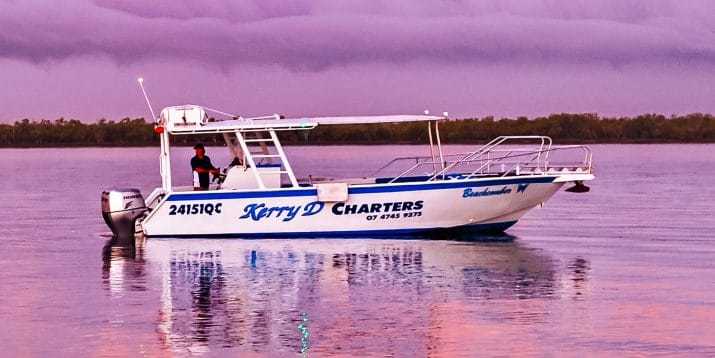 A large and comfortable vessel designed to get you to your destination in comfort and quickly, with a cruising speed of 20 knots.
SandyBell – 28ft (8m);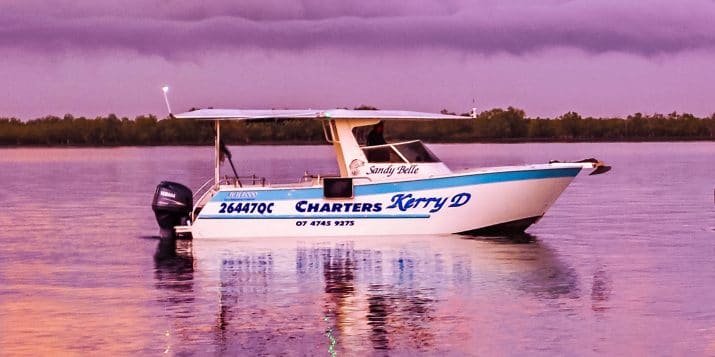 Custom designed by a naval architect to be perfectly at home in the waters of the Gulf, allowing you comfort, refinement and shade for your travels.
Both boats are;
Fit to carry 12 passengers plus 2 crew
Well sheltered from the elements
Excellent fishing platforms
Very comfortable and stable
Easy to board
Toilet facilities
Disabled access (contact for more information)
Testimonial by John Mondora
I have been fishing with, and reporting on, guided fishing operations, both here and overseas, for over 40 years and I am very impressed with Kerry D Charters at Karumba. In fact, I would place them in the top five I have been privileged to fish with.
Excerpt from Barra, Bass & Bream byJohn Mondora
"Sandy Belle" is certainly one of the best and safest charter boats in Gulf waters and owner/operator Captain Paul Donald is a very pleasant and capable man who has intimate knowledge of the waters around Karumba and I have no hesitation in recommending Kerry D Charters to anyone wanting a great day out fishing in the Gulf of Carpentaria. I have spent many enjoyable and successful fishing days on "Sandy Belle" with Paul and crew of Kerry D Charters."